Move over, monochromatic "Girls" on HBO. There is a charming play in Los Angeles with characters that reflects the multicultural mosaic of New York City.  
Known for bringing diversity to theater, the East West Players is an Asian American theater company who brings stories about people of color to the stage. This time, the company has produced a contemporary comedy called "Washer/Dryer" at the David Henry Hwang Theatre, which will run until March 15.
Written by South Asian Nandita Shenoy and directed by Peter J. Kuo, this farce takes us on a wash cycle, rinses, and delivers.
Sonya (Rachna Khatau) lives in a New York City co-op. Her apartment allows only one occupant, so she has not told the doorman she is married to Michael (Ewan Chung), who at best is considered to be a permanent guest.
Not quite ready to give up the single life, Sonya defends her washer-dryer unit because it is "the holy grail of New York real estate."
"Washer/Dryer" subverts the idea of what a traditional marriage should look like. From a shotgun wedding to interracial coupling—specifically, between a Chinese man and an Indian woman—the play explores the pressures that two people face at the edge of a new stage in their lives.
However, certain tropes may have been reinforced, such as the "gay best friend" Sam, portrayed by Corey Wright. A character was accused of discrimination against gay people, yet the character accusing was heterosexual.
The play does redeem itself though because it emphasizes that being gay is not a lifestyle choice, which is something that characters from the older generation come to understand.
The actors urge the audience to see the characters as complex individuals that are not contained within their dominant identity.
"The way I see Corey's character—he's very human. He was the voice of reason during most of the play. He just happens to be flamboyant," Ewan Chung said.
Another troubling portrayal is Michael's mother comes off as the tough Dr. Lee, micromanaging her son's romantic life though she demonstrates love for him through food. This stereotype of the strict Asian mother has been reinforced time and time again, such as Jessica from "Fresh Off the Boat" and Amy Chua's Battle Hymn of the Tiger Mother. Luckily, Karen Huie plays Dr. Lee with such grace and wit that it is forgivable.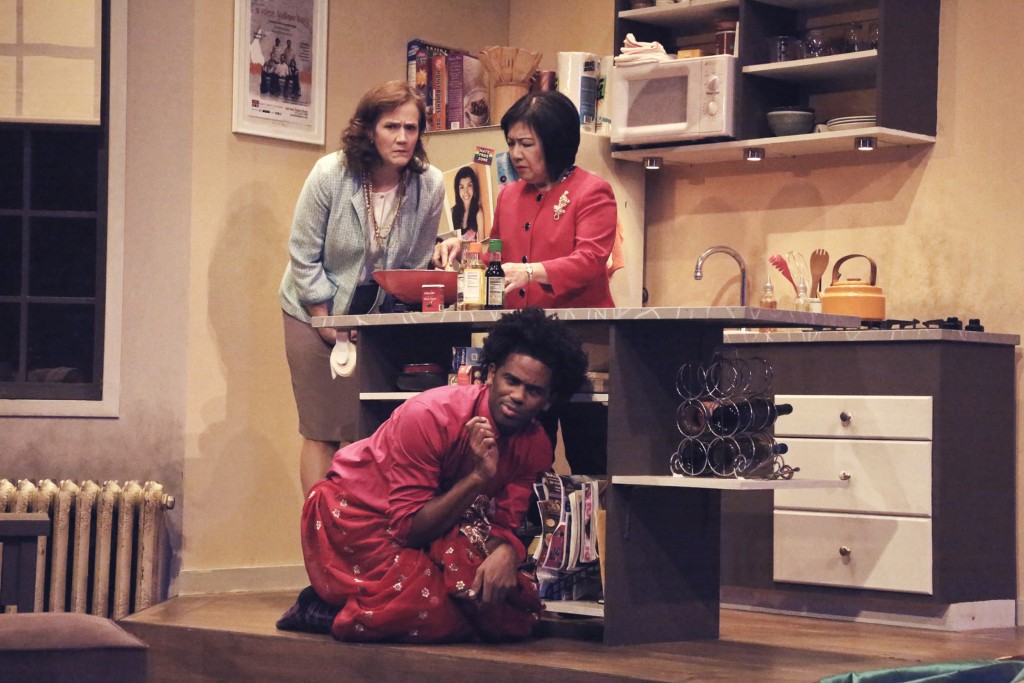 Despite these issues, the play has opened up dialogue about people's diverse experiences in the US, such as the many hoops second-generation folks must jump through while negotiating their intersecting identities.
Ironically, a conversation between Huie and a fan during the post-show reception illustrates why there needs to be more representation of Asian American stories in the media. The fan asked, "Do you have an accent?" to which Huie curtly replied, "No, I'm from New York."
Although it's arguably fair to ask this question due to the Chinese accent of Karen's character, Dr. Lee, why is it that white actors can play Germans or Italians without being asked if they have a real accent? Simply put, Asians are still seen as perpetual foreigners in America.
Not only does "Washer/Dryer" serve as pure fun for the night, but it also tackles relevant issues about the Asian American identity.
"Comedy has to have purpose," Ewan Chung said.
Often used to present social criticisms under the guise of laughter, comedy can open up the audience to a wide range of issues without causing serious offense and backlash.
This play has raised issues about race and sexuality within the context of comedy, and there is hope that it may change viewers' minds about what it truly means to live in the multicultural immigrant fabric that makes up the United States, ranging from Boulder to New York City.