Indian film actress and singer, Priyanka Chopra, is nothing short of successful. Since the start of her acting career after winning Miss World in 2000, she has been one of the highest paying Bollywood actresses.
With more than 50 Bollywood movies under her belt, Chopra, 33, made the move from Bollywood to Hollywood this past year. She currently stars as Alex Parrish in the hit NBC series, Quantico.
Quantico offers a glimpse into the lives of FBI recruits, centered in the Quantico training camp in Virginia, where one of them is suspected and accused of being a sleeper terrorist.
The character, Alex Parrish, was not originally supposed to be Indian, and when Chopra was cast there was great discussion on whether they should change the character's name and background. Chopra was dead against it and purposefully wanted to break barriers as a person, not as an Indian.
"When I got the part, we had a whole debate about whether we should change her name, make her more Indian," Chopra said. "I didn't want to change the character. I wanted to be able to act like Alex, there are some great shows that are very culturally specific … but we really wanted a role anyone could play.
"It wasn't about her race or color. Any woman could relate to her," she added.
In the same year that Quantico premiered, Chopra starred in the historical Bajiro Mastani as Kashibai. She won best supporting actress at the Indian Filmfare Awards. She also won Favorite Actress in A New TV Series for Quantico at the U.S. People's Choice Awards.
This isn't Chopra's first time finding success with the American public. In 2013, she released a hit single, Exotic, featuring Pitbull. It debuted at number 11 on the Billboard's "Dance and Electronic Digital Songs" and was number 1 on India's Top Billboard.
Many have compared her to Ashwariya Rai, another famous Bollywood actress and Miss World winner, who also did some work in Hollywood. In a Twitter poll, the majority found Chopra leaving a bigger mark in the Hollywood world than Rai.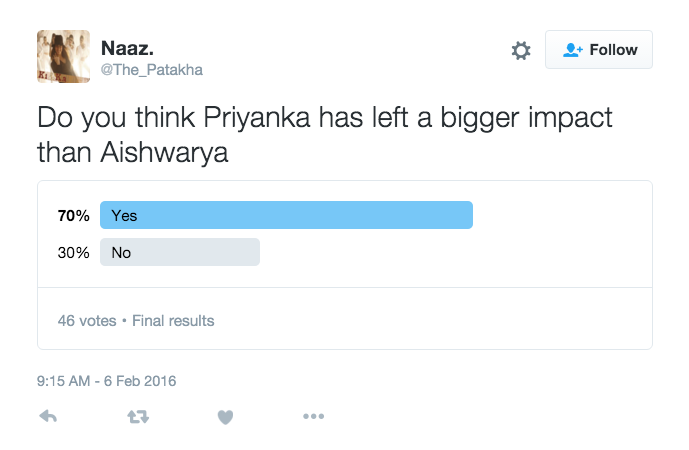 This could be credited to the fact that Rai's only notable debuts in Hollywood were in Bride and Prejudice and The Pink Panther 2, which did not receive high critical acclaim.
Chopra has clearly broken many barriers as a Bollywood actress in the Hollywood world. No notable Bollywood actor has broken the cross-cultural industry barrier as much as Chopra or Rai have.
Currently, Chopra has just signed on to do a voiceover for an animation video game, Marvels Avengers Academy, as Ms. Marvel.
She will also soon start filming the film adaptation of Baywatch, directed by Seth Gordon, and co-starring Dwayne Johnson, Zac Efron, and Alexandra Daddario.
In addition to that, Quantico has been in good standing with ratings and will most likely get renewed for a second season, which would premiere in September of 2016.