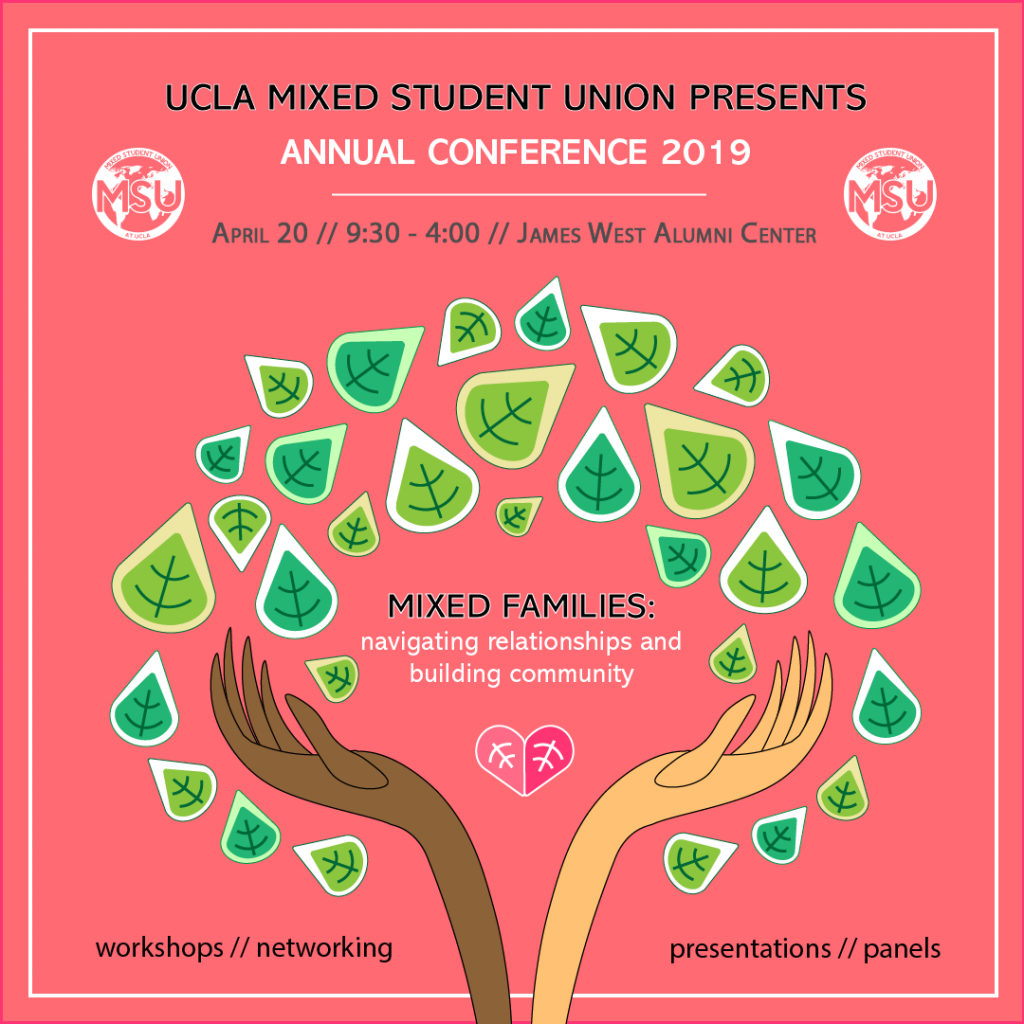 Every year, the Mixed Student Union (MSU) at UCLA organises a Mixed Heritage Conference — a conference to raise awareness and open discussions about people of mixed races or cultural ethnicities. It will be held on April 20th, at the James West Alumni Center, and this year's theme is "Mixed Families: Navigating Relationships and Building Community."
"Even though we're all from different communities, the conference makes us feel belonged. Whenever I participate, I feel like I learn something new," says Keira Monuki, Co-Director of MSU.
The event is scheduled to run from 9:30 AM to 4:00 PM and is open to the public. Breakfast and lunch will be provided.
The conference is a grand-scale event — one that is not just confined to the university population. Many UCLA alumni, non-UCLA affiliated students who did not have a MSU, or folks who simply have never been in a group with a lot of mixed people, participate in the occasion.
"Usually, they [the alumni] get so happy to feel so included," says Kamilah Zadi, Co-Director of the club. "A lot of them have expressed that they wish they had this when [they] were at UCLA. It's always such a warm feeling knowing you're doing something that people ten or even fifteen years from now will look back at and feel grateful for!"
The conference will also feature speeches from a panel of distinguished keynote speakers, networking activities, and workshop sessions. These activities will focus on the theme of building community and navigating familial relationships.
"For the event, we're encouraging people to bring whoever they feel like they can call 'family.' If they interpret family as parents and brothers and sisters, bring them. If it means their best friend, bring them!" Kamilah explains.
In addition, there will be a diverse selection of student-led workshops designed specifically for parents, to give them a fresh perspective on the identity of being mixed. Other workshops will focus on increasing inclusivity and fostering better child-parent relationships and sibling-sibling relationships. Some will also address issues that mixed children have with not feeling "belonged" in their communities.
"Personally, I think workshops work really well in explaining certain things to parents, things they should know about raising a mixed child. For example, my parents are sometimes asked if their daughter is adopted! Or if I am their real daughter! Imagine! How can one ever learn to react to such a situation?" Kamilah says. "And since sometimes it's difficult for children themselves to talk to their parents about what it is like to be mixed, hearing it from someone else makes it easier, since it's not as sensitive."
For the guest panel, accomplished representatives from various fields, are scheduled to speak at the event. Dr. Jennifer Noble, one of the speakers anda clinical psychologist, will talk about mental health and mixed people, family dynamics/relationships, and how culture shapes identities.

Mary Ann Triest, the Program Manager for Student Engagement at David Geffen School of Medicine, will present on the mixed experience and heritage language schools.
Among other speakers are Dr. Lily Temai, a UCLA Asian American Studies lecturer,  will hold a workshop on language acquisition, and MSU's Kamilah Zadi will speak about intergenerational familial relationships.
Everyone is welcome to the event regardless of race or ethnic affiliation. Interested participants should RSVP here for an unmatched multicultural experience.