UCLA's Mixed Student Union (MSU) hosted their fourth annual Mixed Heritage Conference on April 30 in the James West Alumni Center. The organization's goal for hosting the conference on campus, according to the organization's co-director Ariel Pezner, was to spread awareness of mixed identity among student audiences within UCLA as well as circles of mixed groups outside UCLA.
The reach of the organization's efforts go well beyond the campus, with its connections to several other student organizations such as those at the University of Southern California. Chelsea Strong, co-director of MSU alongside Pezner, shared that the conference was the biggest event hosted by the organization to attract students, staff, and faculty of all backgrounds "to get a chance to learn critically about mixed heritage." To manifest the appropriate space for this exchange of ideas and learning, prominent speakers from various mixed backgrounds were invited to speak.
The keynote Speaker Dr. Velina Hasu Houston, who wrote her senior thesis at UCLA and received her doctorate from USC, is recognized locally and internationally for her analytical playwriting on genres of mixed heritage, a topic often overlooked as "too uninteresting" for the arts.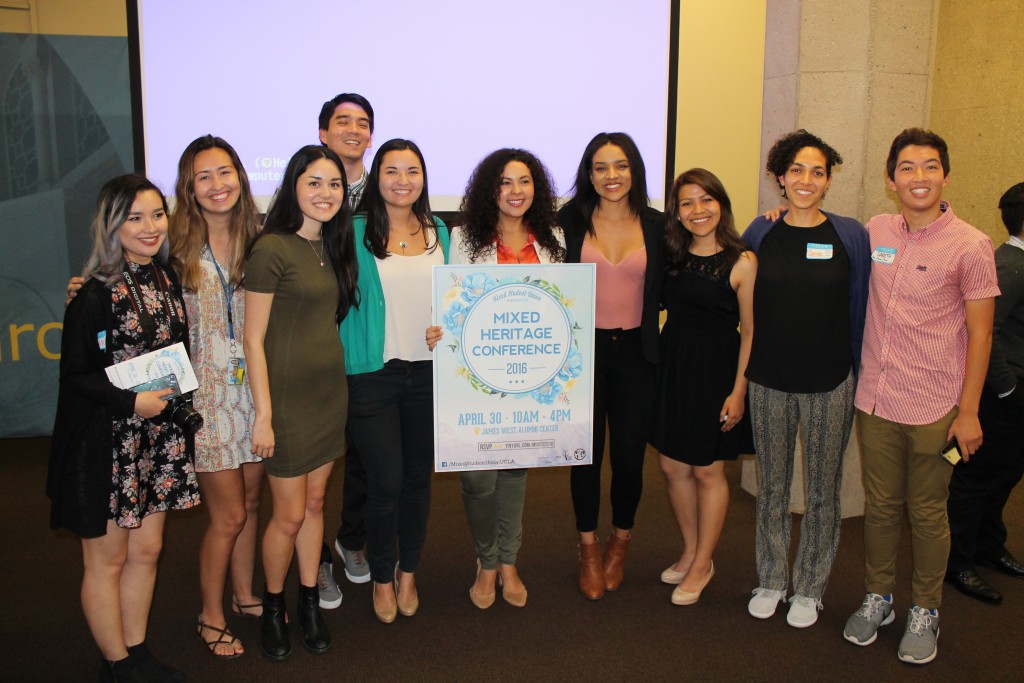 The conference brought into projection the importance of using art as a medium to communicate beyond the subjects of the composition itself. Among Dr. Houston's most renowned works is "Tea, with Music" and "Cinnamon Girl." She is a leadership force for many organizations such as HapaSC, a mixed heritage organization at USC, and Multiracial Americans of Southern California (MASC), whose mission statement is "to advocate for and foster multiracial community and identity."
Her son Kiyoshi Kamehanaokala Houston also spoke at the conference, and stressed the need to bring issues of mixed identity to the public and discussed how to increase accessibility for millennials.
Some of the other organizations' representatives in attendance included Dr. Chandra Crudup, from One Drop of Love and the co-director of Mixed Roots Stories (MRS), who sponsored the conference. In addition to teaching at Arizona State University, Dr. Crudup is also a social worker. She said, "Race is in the face a lot more than in the past," and that there needs to be a healthy way to deal with social justice issues. She spoke on what a healthy lifestyle looks like, a survival guide to not getting "jaded out by issues that affect life at work and socially."
As described by Mark Edwards, a member of the community, MRS is a place to share stories, as they have the power to change the mind and to create community. These stories are shared not just through writing, but through creative media such as performing arts. "Language could be so limiting, so art can transcend [these limits]," said Edwards.
The goal of the conference and many of the representatives of the movement present was to reinforce the idea that mixed race and identity issues should be discussed in an open, critical way to challenge assumptions and be acknowledged as important.
The conference continued until 4 p.m. and included several enrichment workshops to create a discursive atmosphere where audience input their own ideas for what interventions to create or what issues to shed light upon. The event was made possible with the help of interns at Mixed Student Union among many others. When asked how she came to be interested in mixed heritage, Barrie Diggs responded that it was the previous year's conference that provided her with "the biggest exposure to the organization."
She further elaborated that joining the organization helped her find people like herself who understood her struggles and shared commonalities with her. To be a member of Mixed Student Union, there is no membership fee; Anyone is welcome to drop into their meetings, where they discuss different topics related to mixed identity and mixed heritage. For more information on the organization, please visit their Facebook page.