The following article contains sensitive content such as violence and rape.
For historical context, see "Comfort Women Today – After You Kill A Butterfly"

On April 13, the 2016 Korean Culture Night "When You Kill A Butterfly" told the emotional struggle of a group of young people during World War II with tradition and innovation.
The story begins when the girls, Jung Hee, Young Ja, and Yoon Bok, heard of a new Japanese factory that is hiring. The girls, who all live in poverty due to the war, decided to leave home and work at the factory for a better life.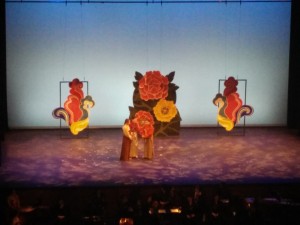 Unfortunately, the "factory in Busan" was really a comfort station in Manchuria and the girls were actually being taken as comfort women, sex slaves for the Imperial Japanese Army.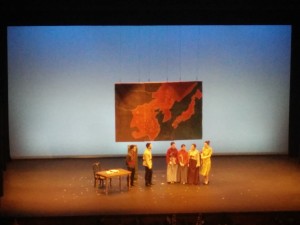 KCN then showed the audience the painful abuse the girls experienced and how they struggled to stay alive and have hope.
Meanwhile, Young Ho, Kyung Soo, and Dong Hyun, who are boys from the same village as the girls, joined the underground South Korean Freedom Fighters in order to fight for and defend their nation. Later, they tried to rescue the girls but end up being captured. Despite being tortured, the men did not spill any information on the Korean Army.
Captain Kimura, a new graduate of a prestigious military school, felt that everything happening — comfort stations and unethical treatment of captives — goes against to the patriotic reasons that motivated him to become a soldier.
Kimura is an example of how some Japanese people were also devastated by an unwanted but unforgiving war. He was so internally conflicted that he rushed into Colonel Hayashi's office, pointing a gun at Hayashi while questioning the ethics surrounding the torture and the comfort women camps.
In the end, the girls help the captured Korean soldiers escape, but at the cost of 2 lives — Se Ju, a comfort women who tried to save the other girls, and Young Ho, who kept the intel of the Korean Army even to his death.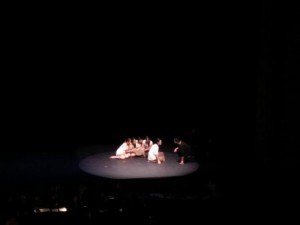 Finally, the scene switches to the Korean Revolution Army with both the men and women and how they are fight for their nation's honor and freedom.
"When You Kill a Butterfly" incorporated many traditional Korean performances such as Buchaechum, traditional Korean Fan Dance; and Poongmul, traditional Korean percussion; as transitions, symbolisms, and even characters that help move the story forward.
Video: fan dance
The play also included original music written by UCLA undergraduate student composers Kate Bacich and Stephen Spies. The emotional music pieces used both Western and traditional Korean instruments such as the kayagum.
Video: kayagum and orchestra
During the second act of the show where many fight scenes occur, KCN put out interpretive dance battles where B-boy fought with Poongmul in masks. The emotional capture scene following the dance battle was portrayed in a dance by KCN Modern.
Video: B-boy/Poongmul dance battle
A night filled with laughter, sadness, and national pride as the 2016 KCN served as a memorial for all who struggled to fight for the peace that exists today and hopes to remind the current generations of these struggles