Early this morning at UCLA, student groups Vietnamese Student Union (VSU) and American Red Cross at UCLA have gathered on Bruin walk to fundraise for Typhoon Haiyan (Yolanda) relief aid.
Considered a category 5 with the most dangerous wind speed, Typhoon Haiyan is recorded as one of the strongest cyclones to hit land. According to the International Committee of the Red Cross, more than 10,000 casualties have resulted from Typhoon Haiyan hitting the Philippines and entering into Southeast Asia, leaving millions of people without homes, food, or water.
To help raise relief aid for the people and families afflicted by this natural disaster, VSU is selling "Vietnam ♥" jars. Each jar is designed with a hand-painted drawing of Vietnam, laced with a red ribbon, and topped off with a bamboo hat. Further, the purpose of the jar is for the donor to collect more money for relief aid. VSU proceeds will go toward GlobalGiving Foundation and provide emergency disaster care and long-term relief for victims.
In addition, the American Red Cross at UCLA are on Bruin walk with posters and donation boxes to collect relief fund that will go towards food, clean water, shelter, and other necessities.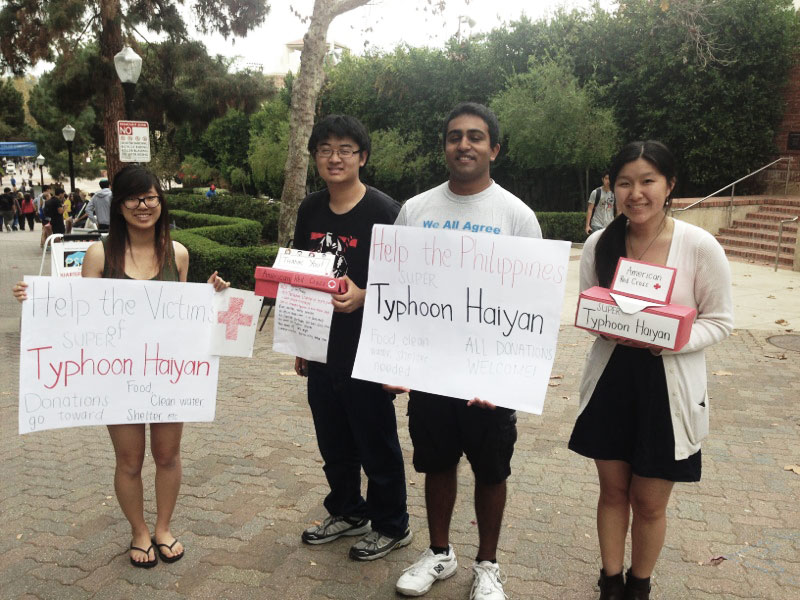 To learn more about how to help, visit this article posted by the New York Times.