Tiffany Hsu, the publicity director of Taiwanese American Social Change Initiative at UCLA, discussed Taiwanese American Heritage Week (TAHW), which spanned from May 9 to May 13, with Pacific Ties in a recent interview.
Established in 2011, TASC Initiative at UCLA aims "to spread Taiwanese awareness and culture through community involvement and to build and strengthen the Taiwanese American community on campus," according to Hsu.
Hsu believes the heritage week is important to specify exactly who the Taiwanese are and to demonstrate that Taiwan is its own country. The political standing, however, is extremely culture-specific, so in order to include more members of the community, including non-Taiwanese individuals, TASC Initiative emphasizes more on the cultural aspects: TAHW is a celebration of Taiwanese culture and history and an opportunity for the community to come together.
Each event in TAHW is "open to all, regardless of background," says Hsu.
This year, TASC Initiative hosted four events for TAHW: a photo art competition, a food workshop, a movie night and a social.
On May 9, the organization held a photo art reception at Kerckhoff Art Gallery. Participants of the event submitted a photo of some aspect of Taiwan prior to the event. Voting for each category of photos, such as best photo of Taiwanese food, happened before the event, and at the event, the winner of each category was announced and awarded a prize. The main goal was to showcase various aspects of Taiwan, says Hsu.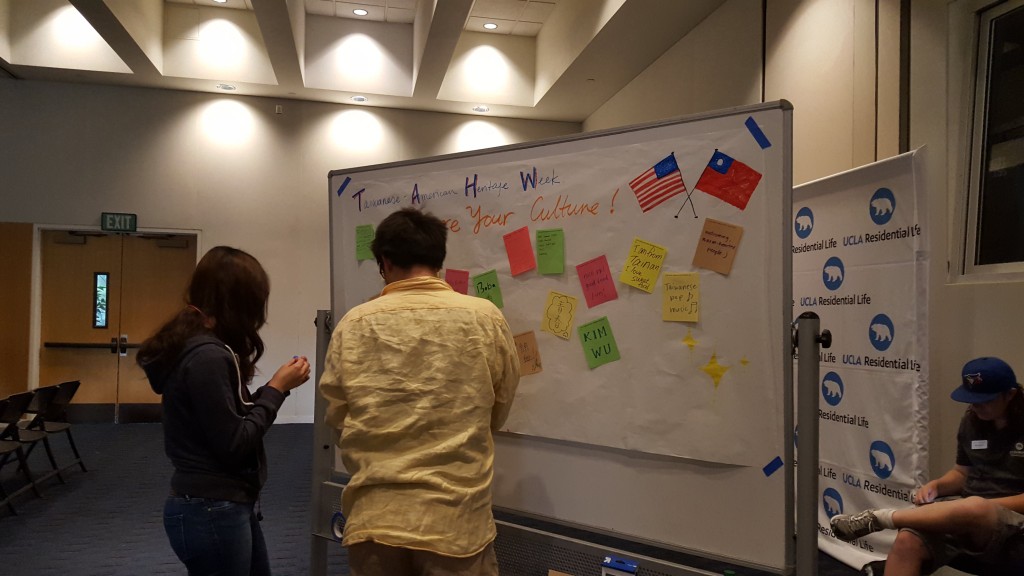 The following day, organizers and food connoisseurs learned about and tasted Taiwanese dishes at Sunset Recreation Center. Attendees ate minced pork on rice, complementing the heavy entrée with black and green tea. The course was completed with pineapple cake. About 70 people attended, according to Hsu, and each person went from one table of food items to the other, learning about the history and cultural significance of each item.
On May 12, Hsu herself organized and premiered the iconic, Taiwanese film  "You are the Apple of My Eye" at Bradley Hall. At the beginning of the event, Dr. Robert Chi, an Asian language and culture assistant professor at UCLA and an expert in East Asian film, according to Hsu, introduced the film, highlighting its accuracy in portraying Taiwan school life in the 1990s.
Afterwards, attendees engaged in an ice breaker and then watched the film. Though it was mainly popular in Taiwan, everyone can still relate to the themes of the comedy-romance, says Hsu. The film talks about school life, love life and social pressures, which are very applicable and relatable to even UCLA students.
TASC ended the celebration of Taiwanese American heritage with a Taiwanese shaved ice social at Frostalicious in Westwood. People who had attended any of the previous events would have received a ticket, allowing them to attend the shaved-ice private event.
Overall, TAHW was "really successful," says Hsu. In the coming years, TASC plans to "continue hosting heritage week," aiming to make each year's events better and better.