BY LUCY MA and AMANDA LEUTMIXAY.
On Friday, October 28, 2016, UCLA Campus Events Commission hosted a Free Speaker event with Disney writer and director, Jared Bush, who discussed the production — from creating characters to of Disney's upcoming "Moana." The film takes place in the South Pacific, and is about an adventurous teenage girl who sets out on a mission to save her people by locating the "mighty demigod," Maui, and discovers her self-identity.  
Bush is the co-creator, executive producer, and writer for Disney XD's animated comedy adventure series "Penn Zero: Part-Time Hero." He also participated in the development of Oscar-winning animations "Big Hero 6" and "Frozen," worked as a screenwriter and co-director for "Zootopia," and, more recently, served as a screenwriter for "Moana."
During the event, Bush directly addressed the topic of Moana's production with firm conviction, stating that Disney made numerous efforts to make the animation culturally accurate and entertaining.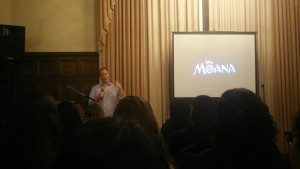 Before "Moana," the last notable Pacific Islander animation film from Disney was "Lilo & Stitch," and since then there has not been a film representing the Pacific Islander community in Hollywood. Thus, when Disney announced that its new animated feature will be about a heroine's adventure in the ancient South Pacific, fans were not only excited for this film, which celebrates Pacific Island cultures, but also anxious about possible cultural misappropriation.
Prior to the Halloween season, Disney began selling costumes of characters from the film, which caused controversy. The Maui costume, in particular, was the most criticized because its tattooed brown skin was regarded as a form of "brownface" that also disrespected the cultural importance of tattoos in the Pacific Islander heritage.
The BBC reported: "After the release of Moana, Maui may be a Disney character to some, but to  many Pacific people, he is very real – a hero, ancestor, demi-God and a spiritual guide."
In response to numerous protests that argued culture is not a costume, Disney apologized and removed the costumes from stores. However, the damage has been done, and people are more anxious than hopeful.
According to Bush, however, Disney's approach to "Moana" will properly introduce culturally inclusive and sensitive standards, settings a hopeful precedent that Pacific Islander community  will receive respectful media representation. To do this, Disney sent a portion of the crew, including artists and animators, on a three week trip to the Pacific Islands to gain a better understanding of the local traditions and cultures.
While on the trip, one local Elder asked the crew, "For years we have been swallowed by your culture…for once can you be swallowed by ours?"
Hollywood films are globally recognized and influential, but their profitable grand spectacles often undermine the need to have accurate racial and cultural representations. Thus, many popular films that are suppose to have characters played by people of color are replaced by white actors – this is commonly known as whitewashing.
Similarly, Disney animations tend to be successful and influential on a global scale, but are often subject to criticism for reasons such as a lack of racial diversity and stereotypical portrayals.  
Disney's "Peter Pan" is a clear example of an all-white cast that portrayed over-the-top exaggerations of Native American. For example, the song "What Makes The Red Man Red?" categorizes a group of Native Americans as uncivilized savages.
Although one may argue that "Peter Pan" is an older Disney film made in 1953 and point out that the times were different then, the film still remains a reminder that if not carefully produced, the animation can and will send negative and offensive messages to its massive audience and harm the communities they represent.
To present an accurate representation, Disney assembled an exclusive group of cultural specialists, the Oceanic Story Trust, to examine the screenwriting and animation drafts to prevent misrepresentations.
The Moana sound crew also consisted of musical artists Opetaia Foa'i and Lin-Manuel Miranda, who are from Oceania and familiar with traditional Oceania music, respectively, along with Mark Mancina, who had previously composed for "The Lion King."
In terms of casting the two lead roles of the movie, Moana and Maui, the crew recruited Pacific Islanders Auli'i Cravalho and Dwayne "The Rock" Johnson, respectively.
Throughout the event, Bush shared exclusive behind-the-scenes footage of the production, along with sneak previews of the movie. The audience was able to be immersed into the "Moana Ohana" from animation scenes that did not make the cut, to clips of Johnson singing his heart out as Maui.
Bush also mentioned that Disney films take an extensive amount of time to produce; "Moana," for instance, took five years to produce.
"The film is never finished until it is released," Bush said. He explained that at Disney, films are constantly changing and, for Moana alone, he made about 700 drafts as a screenwriter.
However, he believes that while this process is strenuous, it allows the film's production to have time to discover its mistakes and allow the story and characters to develop deeper and more fluidly.
"Moana" will be released during the Thanksgiving holiday.