Over six weeks ago, professional violinist Mia Matsumiya published her first post on her Instagram account @perv_magnet to share her archive of unsolicited messages she has received from "creeps, weirdos, & fetishists over the past 10 years." In the past week, several online platforms have covered @perv_magnet, and Matsumiya's story even trended on Facebook.
Unfortunately, Matsumiya's experience with receiving harassing messages is not an isolated one. Social media apps have provided additional spaces for sexist, misogynistic, and racist users to target and harass female identified folks.
To continue, Matsumiya's intersection of her female body and her Asian ethnicity is of particular interest with some of the pervs and haters. Several messages from Matsumiya's archive demonstrate the exotification of Asian women in relation to the phenomenon called "yellow fever." Here are some of the most winning lines of text:
"am I too white for you?"
"you can lay claim to my asian virginity and get eternal bragging rights and free liquor any day"
"I'm white…you're fucking yellow, and know what – yellow is the key, yellow is the way to be"
But wait, there's more! Internalized racism also makes an appearance on @perv_magnet.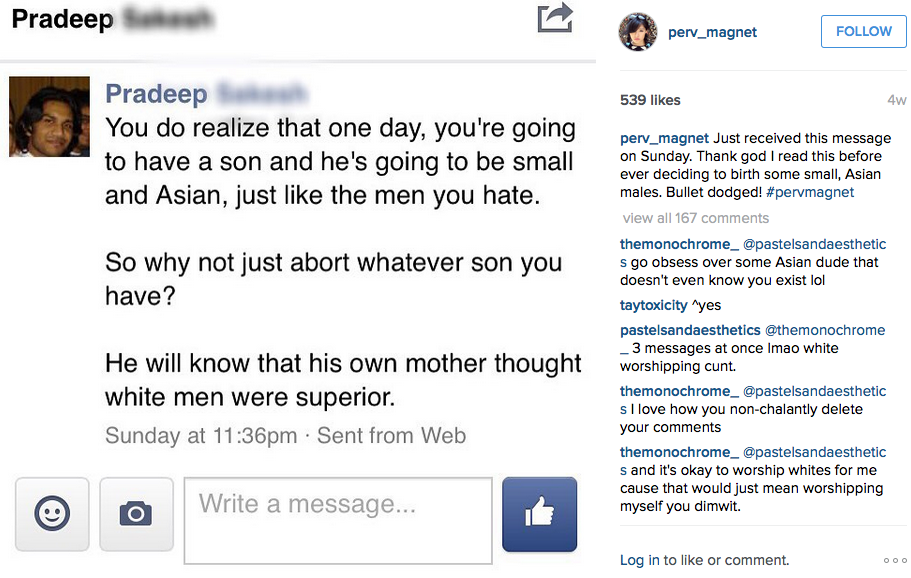 In 2014, OkCupid published updated research that found that the Asian women category was the top rated racial category of women by white men. I guess that shows us a thing or two about the "Yellow Fever," which generally refers to the fetishization of Asian women by white men (to learn more about "Yellow Fever," watch this: What is "Yellow Fever"?).
At the same time, Asian women have also been targeted by people in the API community. The screenshot message of the alleged Mr. Pradeep serves as a reminder of similar violent rhetoric towards Asian women in recent memory of UCLA's campus climate.
In the past years, sexist and misogynistic language coupled with internalized racism have materialized in hate literature attacking Asian women at UCLA, such as the 2012 flyer below that was found "attached to a Vietnamese Student Union sign," according to the Huffington Post.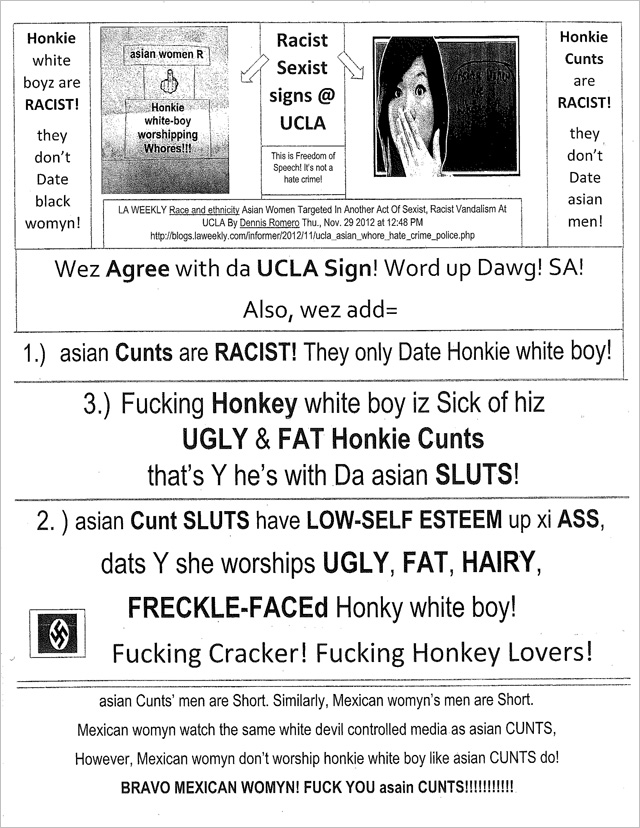 In regards to UCLA's campus climate, Matsumiya's Instagram account provides photographic evidence of what could be happening online to the API female-identifying community. While the hate incidents at UCLA faced a great deal of visibility and critique, how many more Asian women are targeted online everyday?
Mia Matsumiya's @perv_magnet is an important cultural project in that it identifies a movement of women and people of color demanding to be freed from the oppression of existing legacies such as patriarchy, racism, and colonialism. With bitingly satirical captions, Mia Matsumiya's Instagram activism is an inspirational example of creative protest through social media.