On May 8 at 5:30 p.m., local reporters, students and community members packed Perloff auditorium to hear Uemura Takashi speak at the event co-hosted by the Terasaki Center for Japanese Studies and Center for Korean Studies.
Uemura shared his struggles as a heavily-criticized Japanese journalist from the late 1990s to present. After publishing his Asahi Times 1999 article on a Korean "comfort woman," Kim Haksun, Uemura has faced death threats.
Uemura has highlighted a former human rights violation, which Japanese nationalists refuse to address. President Abe Shinzo denies that the Imperial Army's partook in the sex trafficking of young women during Japan's colonial occupation of the Korean peninsula. Many of these women are now grandmothers, who are seeking reparations in an international society that calls them "comfort women," cheongsindae in Korean or ianfu in Japanese.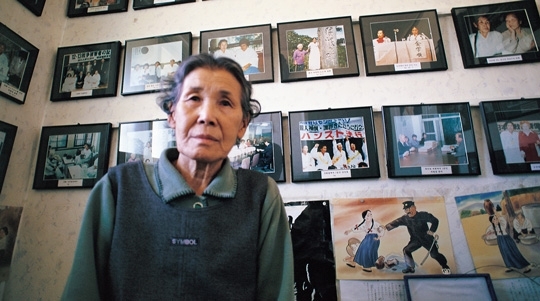 Although Uemura insisted that his short piece was more of a "scoop," he still suffers negative repercussions for it. He presented several examples of this.
Prominent Japanese scholars and journalists, including Nishioka Tsutomu and Sakurai Yoshiko, slander his name, suggesting that he fabricated his article. A Japanese comic book, called Manga: The Anti-Korean Wave, labels Uemura a "traitor to Japan." Furthermore, Uemura's opponents send anonymous hate-mail with threats of shooting school students, lest he continues working at the said location.
Yet, the timing is odd. Why is it that Uemura Takashi is now more frequently attacked for something he wrote over ten years ago?
Uemura believes that the reasons are threefold, he stated. Firstly, Japanese conservatives deny the comfort women issue, because they do not want to pay reparations to Korea and the individuals affected by this. Secondly, Uemura's wife is Korean, while her mother works in a non-profit that advocates for Korean comfort women. Lastly, Japan is cutting down on freedom of speech and press in its attempt to create a more unified and prideful society.
Uemura was careful not to demonize Japan, but he criticized his country's for dismissing the issues of Korean comfort women. More precisely, Uemura highlighted that with the revival of the nationalist movements, Japanese President Abe Shinzo has supported the publishing of new history textbooks. The majority of these books and the President himself both have not officially acknowledged comfort women among other war atrocities.
On June 2007, Japanese nationalists even paid for an ad denying the comfort women issue in the Washington Post, because they feared US Congress would pass House Resolution 121. Nevertheless, the Resolution did pass, and thus called for Japan to apologize for subjecting young women into "sexual servitude."
During the talk, Uemura also demanded that Abe deliver a public apology. Uemura declared that he is also suing his opponents to defend his reputation, protect his family and fight in solidarity with Korean comfort women. At the end of this presentation, Uemura asked that we join him in his fight. His request was met with applause. Then, a former comfort women, Yongso Lee, echoed this request, declaring that she will live for 200 years waiting for an apology from Abe.
Afterward, Uemura responded to questions and comments during the following Q&A session. The discussion revolved around Japanese domestic policy, popular opinion and clarification of Uemura's stance. Overall, the reception was positive.
However, the close of the event did not end in unanimous agreement. Three older audience members from the Korean and Japanese community in Los Angles engaged in debate over the issue following Uemura's talk. And surely, the passionate debate will continue as Korea and Japan have yet to address many unresolved transnational conflicts.