The Global Tinder Survey released results on interracial relationships in 2018 that turned heads and dropped jaws. The survey showed that 63% of global respondents who dated someone of a different race said the relationship pushed them to try new hobbies and activities, 53% said it made them more engaged with social and political issues, and 66% said it enabled them to experience places they weren't previously aware of.
Although Tinder gave the final push, this trend of inclusivity and openness to interracial relationships had begun almost a decade back. OKCupid, another internationally operating online dating, friendship, and social networking website, suggests that the number of people who said they wanted to date a partner of their own race reduced from around 40% to 30% between 2008 and 2014.

This increase in interracial marriages clearly goes hand in hand with the rise of online dating.

As explained by Hergovich and Ortega in their paper on Social Integration via Online Dating, "We used to marry people to whom we were somehow connected. Since we were more connected to people similar to us, we were also likely to marry someone from our own race. However, online dating has changed this pattern."

Interracial relationships give people a chance to constantly learn more, be exposed to new ways of thinking, embrace different cultures, and get a new perspective. In addition, these relationships cause people to deviate from their ideologies — a very important aspect, since they aren't aware of their ideologies until they look at them from the outside. Many of them have a stereotyped idea of love, one which has mostly been derived from childhood experiences and environment, and interracial relationships help break that myopia down.

In fact, Psychologist Karen Wu, from UC Irvine, has found that students in interracial relationships tend to be more open to all types of relationships in general. In her talk with the online magazine Her Campus, she says, "They don't feel as strongly about homosexual or multiracial partners than the people who are in 'traditional' relationships. Because they've had that mask removed, they're comfortable with couples that are considered non-traditional."
This openness will hopefully be beneficial to the Asian community, especially after all the backlash some subgroups faced in the last century. For example, during the 1850s to the 1950s, fifteen states in the U.S. had anti-miscegenation laws that made it illegal for Chinese and whites to intermarry. Even by 2009, Asians faced disparities — a study by OKCupid showed that all women preferred men of their own race, but they otherwise were less likely to start conversations with Asian men. In 2018, Sinakhone Keodara, founder and CEO of Asian Entertainment Television, came across a Grindr profile saying "not interested in Asians." Furious by the continued inaction, he filed a lawsuit against the gay-dating-app for "allowing blatant sexual racism by not monitoring or censoring anti-Asian and anti-Black profiles."

"You run across these profiles that say 'no Asians' or 'I'm not attracted to Asians' and seeing that all the time is grating; it affects your self-esteem," Keodara adds.

Thus, the role of online platforms isn't as linear — while interracial interactions are increasing on these sites, racism still remains a disturbing issue.

Louise Troen, the Vice President of the dating site Bumble, acknowledges that "The online space is complicated, and people can say things they wouldn't say in a bar because of the potential ramifications."

She adds that this doesn't mean it is okay for people to do so, but states that "Lots of people in the world are ingrained with racist, sexist or misogynistic behaviour patterns, and we are more than happy to ban [these] people."

While Bumble aimed to change user behavior by example, Grindr took a completely different route and launched an initiative called "Kindr" to combat different forms of discrimination. This new platform has revised community guidelines and developed stricter enforcement policies and a series of awareness-raising videos. With Bumble, Grindr and Tinder taking the reins, one can expect more apps to follow. After all, from an ethical standpoint, it falls on the networking site to make itself as humanitarian as possible.

"These apps increasingly form a big part of our lives beyond dating. Just because this occurs virtually doesn't mean it shouldn't be subject to the same standards of real life," says Glen Jankowski, a psychology lecturer at Leeds Beckett University.

Recently, in February 2019, the world saw another push towards inclusivity. The Unicode Consortium, the body that sets standards for emoji compatibility, came out with its latest list of new emojis — interracial couples, a guide dog for the visually impaired, hearing aids, prosthetic limbs, sign language, and a person using a wheelchair, among others.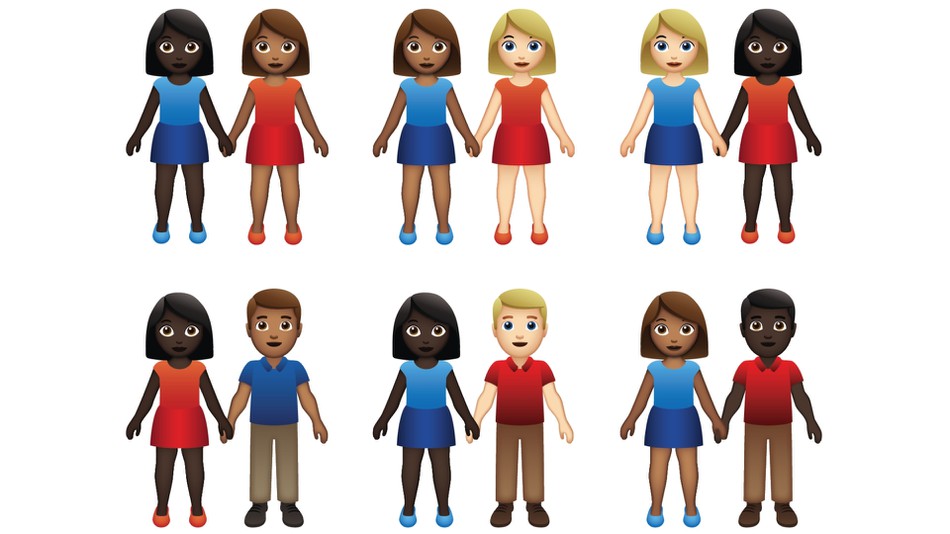 Google and Apple are currently in the process of incorporating the code into their operating systems, and everyone is waiting for the final releases to come out. One will soon be able to have their own 'holding hands' emoji — to reflect their own personal relationship — selecting for the skin color and gender identity of each individual.

This large-scale shift on the internet has brought relief to a lot of app-users who felt excluded from the stereotypical food chain of attractiveness.