On May 21, the Pacific Islands Student Association at UCLA (PISA) hosted the inaugural "Polynesian Arts and Cultural Night" at the UCLA Tennis Courts from 5 p.m. until 9 p.m. During this student-run event, PISA at UCLA collaborated with peers from PISA at UC Riverside, PIA at California State University, Long Beach, PIO at Azusa Pacific University, the PI Club at Long Beach Community College, and Polynesian dance group Tupulaga.
PISA vice president Tiny Bubbles Aranda stated the organization has shied away from putting on a cultural night in past years, because the traditional dances have often been exoticized, or removed from its historical and cultural significance for profit and entertainment. However, this year marked a change.
Aranda shared the incentive for putting on this inaugural cultural night, "We also wanted to show our Pacific Islander Community outside of UCLA our efforts in giving our PI's in higher education a voice in this institution. It has always been said about PISA that although we are small in number, we are still big in our presence. We make sure our voice is heard."
Before the show, dinner was set up buffet style and served by PISA members and volunteers, whose warming smiles permeated the open-air setting. Local community members, family and friends crowded the bleachers that night.
Hosts Mikaela Saelua and Phil Timoteo set the night with high energy and enthusiasm. Although the performances started later than scheduled, the students put on a fantastic show that exhibited dances and elaborate outfits from the islands of Tonga, Hawaii, Tahiti, Samoa and New Zealand.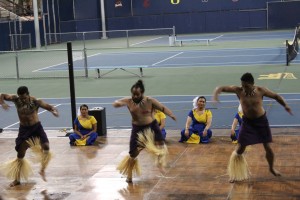 One of the highlights of the night included the intimidating haka performance, which represented the traditional Maori war cry and dance from New Zealand. The men stomped their feet, clapped their hands, and yelled at the top of their lungs in militaristic unison.
When asked about a distinctive loud scream from the audience, Aranda replied, "When we shout, it is called "faaumu". It originally comes from the Samoan culture. It is pronounced "Chee-hoo." This calling can be used during traditional rituals and ceremonies and while we dance."
Audience members actively joined the performers during the show by cheering on their loved ones with hawkish yells, taking photos, and gifting lafo money offerings to the performers on stage. During intermission, the audience members even left their seats to groove to the "Electric Slide," Jason Derulo's "Wiggle" and other popular beats. As if the upbeat music wasn't incentive enough to get people on the tennis courts, the best dancers also won delectable salted candies.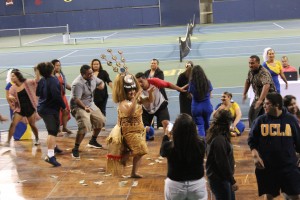 Finally, the night ended with a Samoan ceremonial dance called a taualuda, traditionally performed by the daughter of a high chief. In this case, PISA president Live "Josie" Maluia filled in. Maluia adorned a tall feathered tuiga headdress and gracefully closed out the spectacularly fun show.
President Maluia stated that, "Rather than choose to stay away from performing, I decided to use this [cultural night] as an educational tool for the UCLA community to learn of our cultures and why this means so much more to us than just entertaining." She also concluded, "This night didn't just celebrate our culture, but our people, our community, and our families."
Corrections: The original version referenced Tiny Bubbles Aranda as "Arranda", and incorrectly confused a "taualuga" dance as a "taupou".