Asian Pacific Health Corps (APHC) was founded in 1980 at UCLA as an organization dedicated to providing hypertension screening for the Asian and Pacific Islander (API) population in the greater Los Angeles area. Throughout the 41 years of its operation, APHC has expanded greatly in size and methodology in pursuit of their mission: serving local API communities that have minimal access to healthcare and limited financial resources. The organization is divided up into eight subcommittees with vastly different purposes, with a directorship team holding up the backbone. With a bit of time and finesse around our busy midterm schedules, Pacific Ties Newsmagazine was able to interview the directors of four of the subcommittees.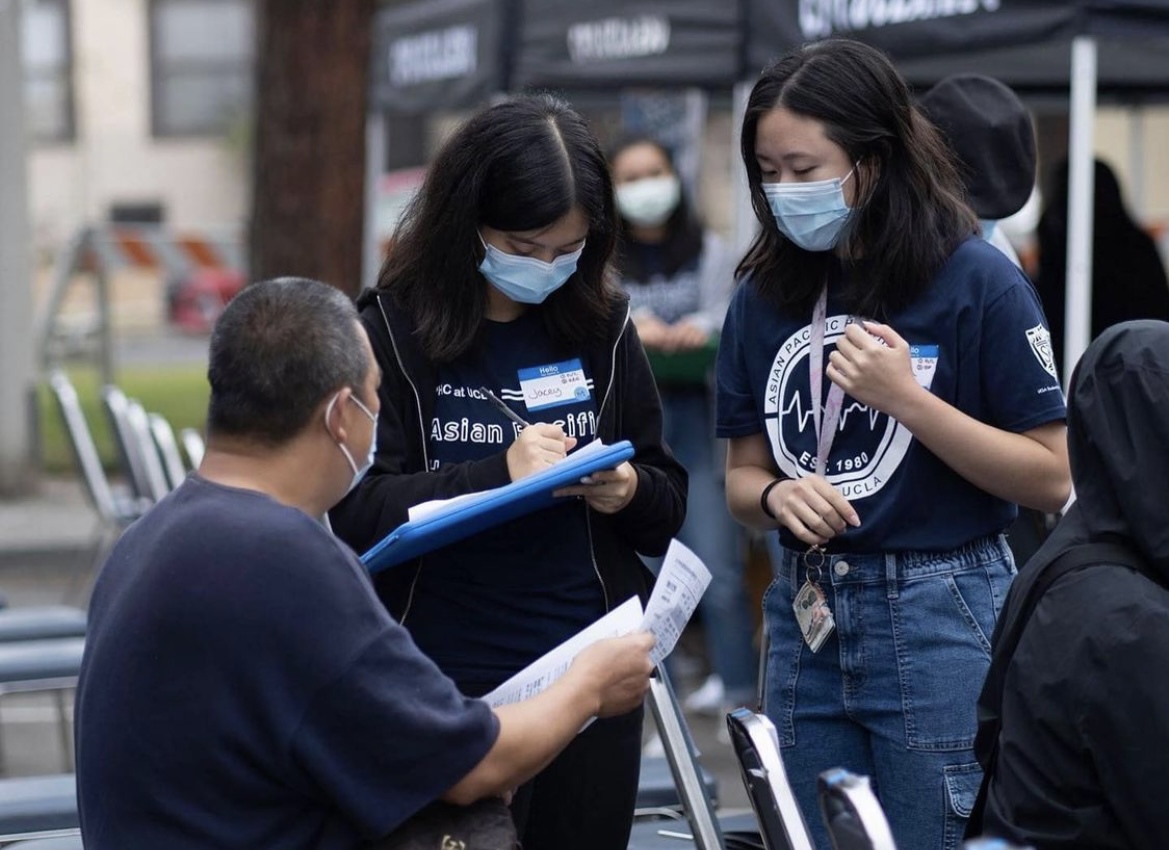 Introducing four directors of APHC: Why did they join APHC?

Jung: Fourth-year psychobiology major Cael Jung joined APHC in their sophomore year after seeing their roommate (and now fellow director) always coming and going to their events. "I got curious, you know, like, 'What was it?' 'What is this club?'" They attended a boba social in the fall quarter of sophomore year, then the rest was history.
Lai: Third-year physiological science major Jenna Lai realized APHC was only recruiting in the fall quarter and was eager to participate. Lai said that APHC simultaneously offered "a lot of opportunities to grow personally and professionally," while being a non-competitive club, which allowed people to share their experiences and advice more openly.
Lee: Third-year biochemistry major and public health minor Mackenzie Lee was looking for a community. She realized that she enjoyed the atmosphere of the people whose passions aligned with her own after attending a social event in her freshman year.
Tzeng: Prior to attending the first general meeting, third-year biochemistry major and biomedical research minor Jasmine Tzeng had never thought of the API community as disadvantaged in health settings before. She claimed that she was lured in by free stickers and the revelation that she had a lot to learn from this club.

What does each committee do?
Jung runs the Public Affairs committee, which invests in the "professional, personal, and educational development" of APHC members. Committee members create infographics and sheets to be shared on APHC's social media, then collectively decide how to make and manage the resources and information.

"We get to become knowledgeable about the area [we research]," Jung said, "and I enjoy being a resource for other members."

Lai leads the External committee, which creates poster boards with applicable health topics for health fairs to educate the service recipients, and contacts clinics to create informational packets to hand to health fair attendees for their convenience. Lai said the External committee is "really flexible, and [it] allows us to be creative with the topics."

The bulk of the work done in the Internal committee culminates in Health Career Networking Night (HCNN), the largest on-campus student career networking night open to all UCLA students. HCNN allows students to connect with and consult the advice of healthcare professionals from various fields.

"It's hosted in spring quarter, so please come!" Lee, the internal committee director, said, excitedly clapping her hands together.

"The joke is that nobody really knows what I'm doing," Tzeng said. As director of Research and Evaluations (R&E), Tzeng is certainly running a wide range of services. R&E analyzes the data from intake forms gathered at the health fair from service recipients, running the translation subcommittee which interprets English documents into Chinese, Korean and other languages. They also create research teams centered around community health projects that present their results at Undergraduate Research Week.

Other committees within APHC include the Programs committee as the "face" of APHC; they create presentable content related to health in the API community by making videos, conducting interviews and running the APHC blogs. The Health Fair committee is in charge of flyering for the events and setting up the logistics of a health fair. The Finance committee coordinates fundraisers for APHC, like dare bingos on Instagram and báhn mì sales on Bruin Walk. The Student Affairs committee is a member favorite, in charge of building the social community and friendly comradery within APHC with game nights, holiday events, family systems, buddy pairings, mentor and mentee connections and more.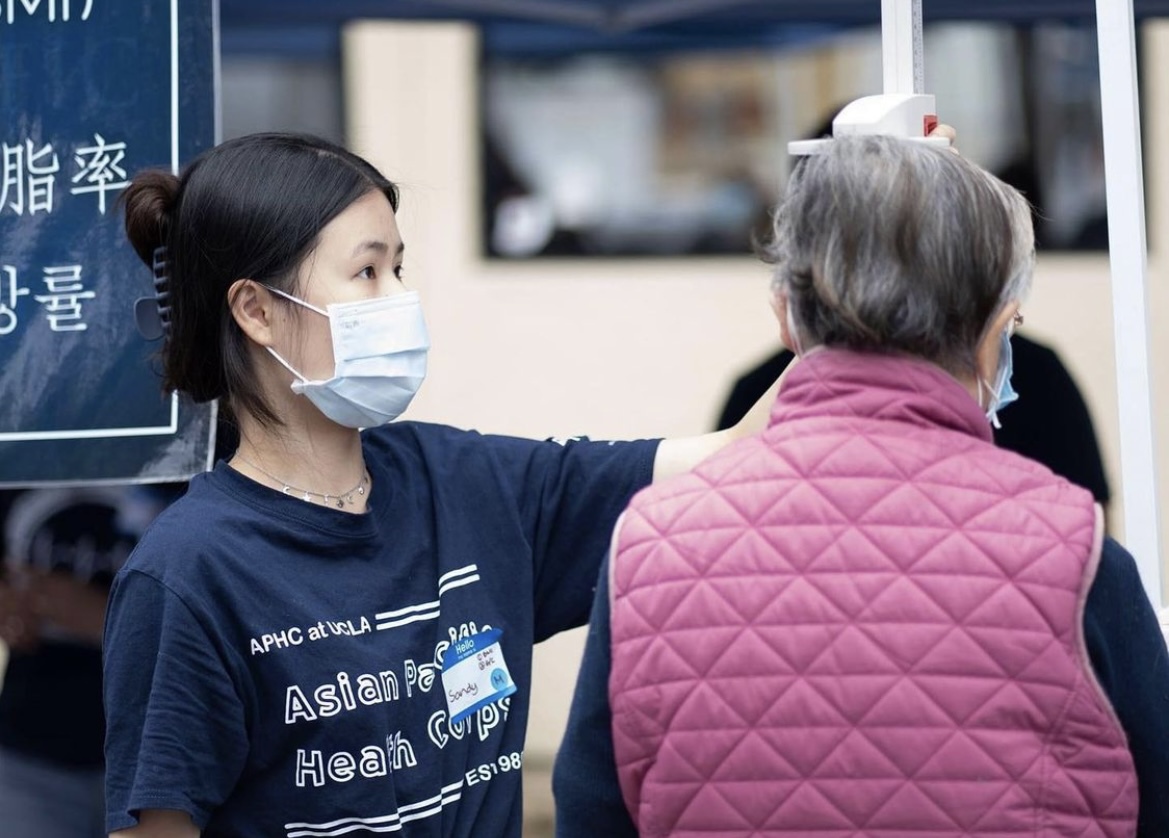 How did APHC handle operations during COVID-19, especially last year?
COVID-19 forced APHC to host meetings and events online, but this trial had some unexpected pros and cons.

"Zoom definitely increased accessibility," Jung said. "There's more time and freedom and availability to work on [committee tasks]." Working from their home in the Bay Area for this 2021 Fall quarter, Jung still upholds this method of running meetings for Public Affairs.

"There's definitely more logistics to consider for in-person, though," Lee said, "For Internal, we are more limited to inviting healthcare professionals in the greater LA area, when in quarantine we could reach out to a greater variety of people."

Lai believes that now, transitioning back slowly to in-person meetings for the External committee has made interactions between members more organic and personal than seeing people through a computer screen.

What makes APHC special to you?
For the four directors, APHC is memorable for its welcoming community and embodiment of the unofficial UCLA slogan, "work hard, play hard."

"APHC was part of my realization that I didn't have to commit to anything," Jung said. "I was always hesitant to join things because I felt like I had to know what I was doing."

Coming to college, they had felt the burden of a set timeline of "I need to volunteer, shadow, research… it really killed my interest and passion." Through APHC, they discovered that, more often than not, there was no real timeline in place they needed to follow.

A lot of it was the little things for Lai.

"It's similar to volunteering in high school," Lai said, "but a lot more hands on, and geared to helping people with their health. I could really see the impact on the service recipients, and it's just a good reminder that I'm doing something that I love."

Going to health fairs was always remarkable for Lee, whose committee sends out invitations for health care providers to set up stations at the health fairs. With her feet drawn up on the chair across the dining room table, Lee wistfully remarked, "You can see it on paper as words, but that really brought it to life."

Tzeng is far from home; at least, the distance to the Bay Area isn't small. She joined APHC, initially feeling lost and following the faint impression of an interest in pre-health.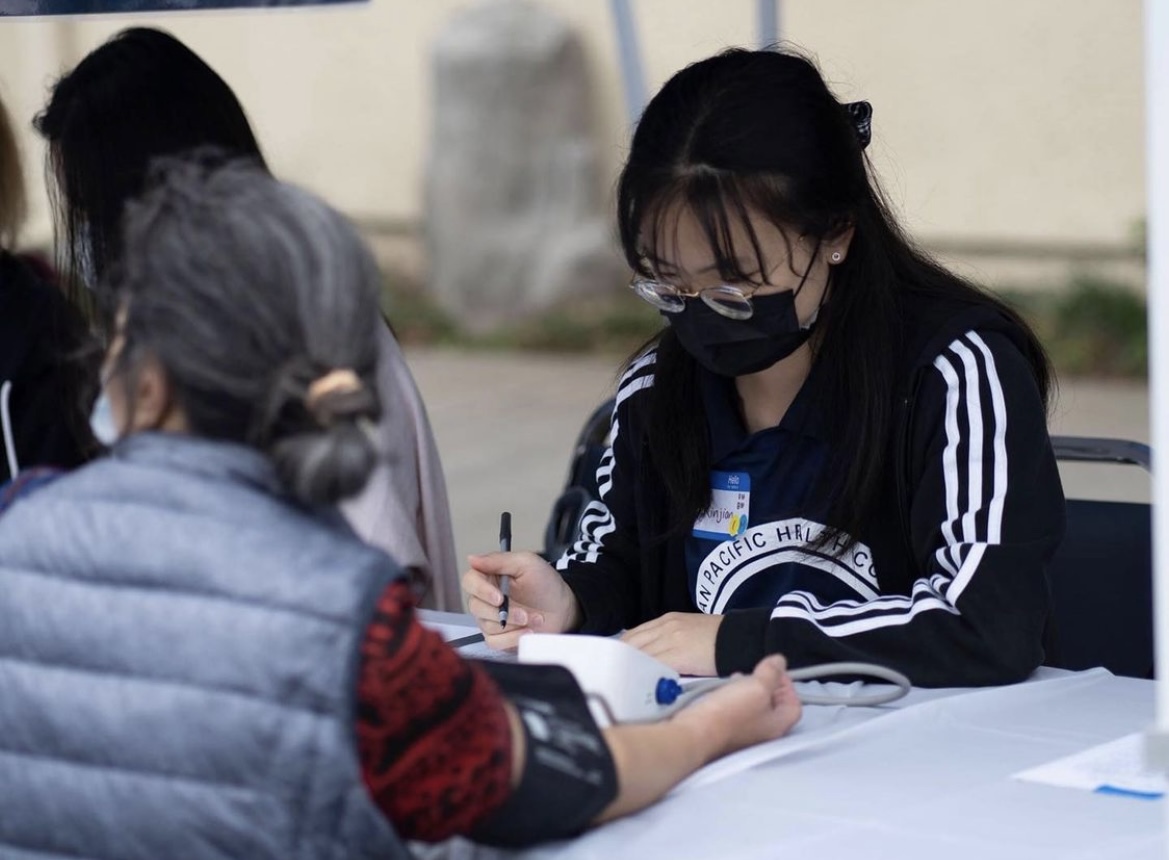 "My interests lie more in research now," Tzeng said, "But it's nice to give back to the community I'm from."

As a student at UCLA, what advice do you have for your fellow peers?
Jung's advice: Take LS110, Career Exploration for Life Sciences. Learn to accept gap year as a concept; "Gap signifies something is missing; I'd like to think of it as a growth year. They're not part of your academic career, but you still grow from it, and you still continue to be a human being."

Lai's advice: Take every opportunity you can get. Never say no; take the challenge! "With failure that's when you can grow. It makes you become stronger."

Lee's advice: Networking is an essential part of exploring your options which is why Lee recommends it so highly. "Even just networking with your own physician," Lee said, is a great way to start.

Tzeng's advice: "College is really about learning how to learn. Any opportunities you don't take now are opportunities missed; ultimately you don't know unless you try it out!"

Anything else you would like to add?

Jung lowers their voice, even though we're on a Zoom call in the Luskin Conference Center. "Jasmine and I were thinking about starting a crocheting branch of APHC. If you're interested…"

"Join APHC!" Lai says brightly, with an echoed "Yes!" from Tzeng ricocheting out from the third-years' shared apartment bedroom. Lee, sitting across from me at their dining table, chews on her create-your-own pita and nods in agreement.