On April 1st, the Association of Hmong Students (AHS) held an event called "Hmong Awareness Day" on the McClure Stage in Bruin Plaza to showcase Hmong history, art, and culture to the UCLA community.
The Hmong people are an ethnic group from the regions of China, Vietnam, Laos, and Thailand.
When asked what the ultimate goal of the event was, AHS President Maxine Chang told Pacific Ties that it was to "make the Hmong culture and people apparent to the UCLA community."
Chang also mentioned that "there are approximately 30 Hmong people here on campus. This includes graduate, undergraduate, and transfer students as well."
With the small numbers of Hmong students in a large place at UCLA, it is important to let the  UCLA community know that they exist.
Hmong Awareness Day is used to show Hmong students who do not know about the student organization that there is a place for them on the UCLA campus. AHS not only works with the community on campus, but also off campus with different high schools.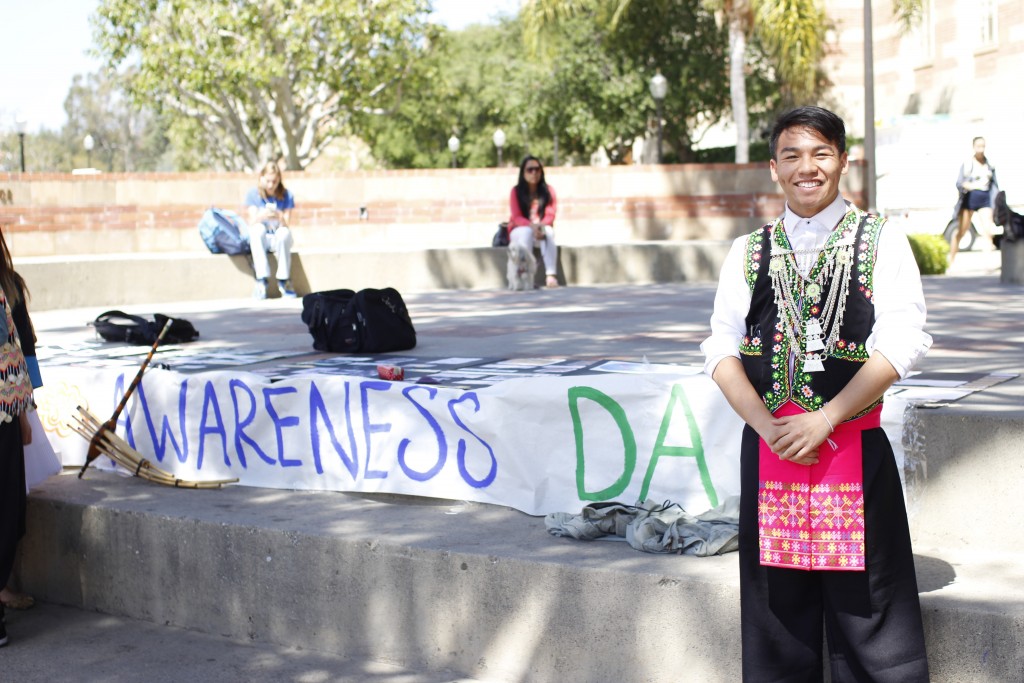 A timeline of the Southeast Asian history pertaining to the Vietnam war was laid out on the McClure Stage to demonstrate how Hmong history is intertwined with American and Southeast Asian history.
Hmong communities in Southeast Asia faced detrimental remnants following the Vietnam war. The CIA covertly infiltrated operations such as "The Secret War" to recruit Hmong people to fight along with the CIA to eliminate the spread of communism and the Viet Cong. This endangered many of the Hmong communities as they were labeled as traitors once the United States evacuated and left the Hmong fighters with nothing.
Ultimately, several of the Hmong fighters who fought in the Secret War and Hmong citizens sought refuge in different countries around the world, primarily in the United States.
The event also showcased Hmong delicacies placed on the front steps of the stage. Articles of the modern clothing of Hmong culture, Hmong migration statistics, and books on Hmong culture demonstrated how unique the Hmong community is.
"We [Hmong people] have a unique and different culture," Chang stated. "Our culture is Thai, Laotian, and Vietnamese inspired which makes it unique to its own."
Their efforts are made in hopes to maintain their culture, while different generations of Hmong people continue to grow in different areas.
To learn more about the Hmong community at UCLA, please check out http://associationofhmongstudentsucla.weebly.com/ for more information.